Professional Managed IT Services Company for Your Business Network

-Local to:

Hammond, IN
What Is An
Andromeda C‑CAT

?

A C‑CAT (Client-Centric Action Team) is a dedicated team that includes one or more

two

Remote Service Techs

, and one or more

IT Field Techs

whose activities are curated by a

Service Coordinator(SC)

—each specifically appointed to service

your

organization. With cat-like reflexes and precision, your Andromeda C-CAT will pounce on any IT issue, upgrade, or project. It's really the cat's meow for your IT needs!)
Network Security Keeping You Up at Night? Ongoing Access Issues? You Deserve a True IT PARTNER! for Professional IT Management!
If you are ready for peace of mind, a dedicated team monitoring, updating and managing your network and, most importantly, if you are ready to get rid of IT headaches once and for all, it's time to make the move to Managed IT Services with Andromeda: the premier IT Service company in the Hammond, IN area!
6 Ways Andromeda Does Managed IT Services Better
100% Live & Local Support
Andromeda's team is completely staffed by local technicians near Hammond, IN 46320,46323,46324. No matter the hour, your issue is resolved quickly and professionally. In fact, 68% of incoming calls are connected to a live technician for immediate response. When a technician isn't available, our average response time is less than 30 minutes. And if that isn't impressive enough, emergency after-hours support response times average less than 10 minutes!
Dedicated Account Teams
You deserve a team that truly understands your business and your needs. That is why Andromeda introduced Client-Centric Account Teams (C‑CATs). As a managed IT services customer in Hammond,IN, you'll have a dedicated account team. An assigned team means one point of contact as well as assigned technicians that are personally acquainted with your network and the unique needs of your business.
Done Right The FIRST Time
Nothing is more frustrating than believing an issue is resolved only to find that the work was only half finished or the problem wasn't actually fixed. We understand this which is why we monitor each ticket and track "Re-Open" work. We are proud to share that our "Re-Open" percentage is less than 2% on all open tickets.
Built-For-You Solutions
Every business is different. We get that, which is why we customize our managed service agreements to fit the needs of each client. With multiple support packages and add on services, we will find a solution that works for you.
One Call – Multiple Technologies
Never waste time playing phone tag between different vendors again. Not only do we provide Managed IT Services in Hammond,IN; between Telecommunication, Access Control, Security Cameras, Burglar Alarm Systems and Web Development/SEO, our team has you covered.
Close The Communication Loop
Nobody enjoys being left out of the loop. During business hours EVERY single call is answered live. We respond to emails within 2 hours or less and if your desired contact happens to be unavailable,
phone calls are returned within one hour.
Want a FREE Consultation or Have Questions?
Just call:

708-301-8814

or fill in the

Request Form

below:
Your information will only be used for our own contact purposes and will never be shared with any third-party.
Professional IT Services that Andromeda Provides for Hammond, IN Businesses:
Managed IT Services
Hammond,IN
Andromeda offers a range of service plans—anything from month-to-month "time & materials"-based assistance to fixed service contracts that permit "no-brainer" conformance to an annual budget. Beyond the functions you would expect from a full-service MSP, you'll have a dedicated C‑CATs team that includes a Service Coordinator directing the same field and remote technicians day-to-day, month-to-month, and even year-to-year to manage your IT network needs.
This isn't simply a glorified Virtual CIO offering. Imagine the cost of hiring your own CIO AND tech team for this same level of customized service and knowledge of your particular (and evolving) network setup!
Cloud Services & Migrations
Typically, the biggest issue you'll face when initiating Cloud services is not the services themselves, but rather the proper migration of your existing services to the Cloud without loss of functionality, downtime, and scores of other details that could undermine the whole process. Andromeda has a long history of expertise in physical on-premises systems. Don't make the mistake of turning all your current systems over to a "Cloud expert"; we'll save you from a lot of heartache and pain with a virtually seamless Cloud migration from your current setup— whatever it is.
Data Backup & Recovery
Hammond,IN
It's a crazy world. Literally thousands of people you don't even know attempt to break or steal from systems like yours every day. Good 24/7 monitoring is a first line of defense, of course. But no matter how great and state-of-the-art your defenses are, you'll almost certainly succomb to a successful attack in time. That's why advanced data backup and data recovery need to be tools that you and your IT partner have at the ready from Day 1. Don't be tempted to "shortcut" this element of your network in the name of expediency or to save a few dollars. Ultimately, you'll lose out on both counts with that thinking. You need a complete and integrated solution that addresses every contingency as well as IT professionals who know how to make that happen.
Cyber Security
Not only do we provide multi-tier approaches to your network security, but Andromeda also provides built-for-you solutions for disaster recovery and business continuity devices. We provide, manage and monitor a variety of devices including physical hardware, Cloud-based and hybrid options. Our team actively monitors over 403 servers and 101 physical backup devices in the field. All with 100% local engineers and technicians.
Onsite/Remote Support
Hammond,IN
Andromeda's team is completely staffed by local technicians near Hammond,IN. No matter the hour, your issue is resolved quickly and professionally. In fact, 68% of incoming calls are connected to a live technician for immediate response. When a technician isn't available, our average response time is less than 30 minutes. And if that isn't impressive enough, emergency after-hours support response times average less than 10 minutes!
IT Network Management
IT networks are our bread-and-butter. We have provided these services to clients since 1994. Some have continued to rely on us for their evolving network needs since the very beginning. We stand behind our work day to day and year to year because we foster relationships with our client-partners that absolutely demand that of us. It's in our DNA and how we prefer to do business.
What A Few Of Our Clients Have To Say
It is invaluable to have one vendor handling all of our technology needs.
"The first project Andromeda handled for our firm was implementing a new phone system in 2010. They handled our wiring, installed the system and fully trained our staff. Since then, our relationship has grown and we've entrusted Andromeda with all of our IT, phone and security needs. In 2016 we moved to our new building and Andromeda was able to make that transition as smooth and simple as possible. It is invaluable to have one vendor handling all of our technology needs. We're lawyers, we aren't IT pros. We need to focus all of our energy on our clients. Andromeda gives us that ability. They remove our discomfort and the 'unknown' by breaking big decisions down into pieces we can understand. They understand our business, they guide us in the right directions and help us provide exceptional service to our clients. We would happily recommend Andromeda for all technology needs to any of our peers."
Charles Keough
Principal —Keough & Moody P.C.
The truth is our expertise is Law; Andromeda's is IT
"Back in 2003 our office was dealing with an IT firm that we no longer believed in. We heard about Andromeda through a family friend and frankly, have not looked back since. They are dependable, knowledgeable and trustworthy. Having a partner that works with the multiple technologies and software applications our industry demands is key to keeping pace with our peers. Their ability to handle issues remotely keeps our productivity high and allows us to get back to work quickly. Their staff is professional and incredibly easy to work with. The truth is our expertise is Law; Andromeda's is IT. Relying on Andromeda for all our IT needs is like having an older brother that knows how to fix anything!"
Anita Fay
Office Manager —Fay, Farrow and Associates
Not Ready To Call Us Yet?
Download Our FREE Report And Discover 8 Benefits Of Managed IT Services in Hammond,IN As Well As 12 Of The Top Criteria MSP Providers Worth Their Weight Should Provide
Choosing an IT partner is a big deal. Whether you're new to the concept of a IT Managed Service Company or you're frustrated with your current vendor and looking for a new one, this report will help you focus on key factors and services you need to be aware of.
Fill out this form to claim your report!
AndroPedia Tech Library
As part of our service, it is important to keep our client-partners well informed on IT developments, news, and best practices. Here is just a sampling of typical items from our AndroPediaSM library archive:
4 Key Questions Any Business Owner Should Ask Before Performing A Cloud Migration
Sep 28, 2018
The solutions, procedures and technologies business owners and staff depend on are continuing their move to the cloud at a steady pace.
Predictions and trends point to over 80% of all enterprise workflow to be managed by the cloud by 2020.
While total adoption of cloud in the workplace is still believed to be 10 or more years away, the benefits to business are clearly driving the adoption of cloud technologies and solutions.
This does not mean that you should perform a cloud migration just because everyone else is doing it. You want to make sure that when you migrate different elements of your business to the cloud, you are doing so in the most secure, compliant and pain-free ways.
That being said, there are some questions you should really ask yourself when planning for or considering your migration.
---
4 Key Questions About Cloud Migration
1. What are the long term costs for my IT when I migrate to the cloud?
 There are quite a few different aspects of your budget that a cloud migration can impact. The first thing you will want to consider is the overall cost of the project. For example, if you have a server and you are considering the costs of a cloud migration vs. buying new hardware, there are a few things you want to look into.
What is the physical cost of the hardware including labor for install and setup?
What is the initial setup and migration cost if you move to the cloud?
What are your anticipated maintenance costs for a physical server over the next 3-5 years?
What are the maintenance costs and recurring costs for your cloud environment for the next 3-5 years?
If you stick with an on-prem solution, how long until you have to replace your new hardware on average?
All of these questions you should ask yourself and your IT vendor/department when considering the cloud. Often, when you take long term maintenance and hardware replacement into consideration, you will end up being more cost effective with a cloud solution. But, this is not always the case.
2. What areas of our business will see benefit from a cloud migration?
The cloud has offered many benefits to business. The cloud environment lends itself to collaboration in many ways. Staff will likely enjoy the ability to access data, software and systems remotely. Departments will notice that different integrations are easier when software is in the cloud as well. Companies like Zapier, IFTTT and even Microsoft with Microsoft Flow are in the business of helping you integrate workflows and get a whole lot more done.
This means more productivity, automating repetitive tasks and hopefully better results for both your employees and clients.
3. Do you have specific security/compliance requirements?
Different industries have specific security requirements and compliance standards for data. This means that you will want to consult with experts in your industry to make sure that the solutions you choose are above board.
For instance, if you chose to migrate your email server to a hosted cloud solution, you still need to make sure that the email service is secure. Solutions like G Suite and Office 365 state in their user agreements that they are responsible for the security of the cloud environment but that YOU are responsible for all of your data.
Meaning – Microsoft or Google makes sure the cloud is secure, YOU make sure that you have backups of your emails and all of your data in case of emergency.
Additionally, if your industry has requirements for sending secure/encrypted emails, you'll want to make sure that the solution you choose meets said requirements.
This was just an example of how security and compliance can impact your choice of cloud email solution. Depending on what you want to move to the cloud (infrastructure, software, OS etc.), you will want to consult with industry experts to ensure success.
4. Public, Private or Hybrid Cloud Solutions?
On the surface, the concept of public or private cloud solution is straight forward.
A public cloud is owned by a company like Microsoft (Azure) or Amazon (AWS). This company owns the physical space where the 'cloud' is hosted. In a public cloud, your business essentially leases space to host your environment. This space is technically shared but can be segmented for security purposes.
This decreases your overall time and material cost for maintenance of the environment. You access services and can manage your account by logging in from your internet browser. These public solutions are best for email solutions, office software, applications, testing environments, development environments and more.
A private cloud is owned and managed by one specific entity (either you or your IT service provider). There are no other businesses sharing your space or stored on the equipment. This is definitely a more secure solution for highly regulated industries.
A benefit with privately hosted cloud environments is that they are more customizable for specific business needs. Additionally, a private cloud is easily scaled to grow with your needs – you will just have to account for any additional hardware or bandwidth needs as you grow.
A hybrid cloud solution is a mixture of any or all solutions including: on-premises solutions, public cloud and/or private cloud.
For some industries, there may be specific elements of the business that must remain on site. In other instances, you may have proprietary software that just isn't cloud compatible or doesn't make sense to migrate.
You may also have certain needs that make sense to offload into a public environment where you aren't responsible for maintenance.
---
The beauty of cloud migration solutions for business is that they are highly customizable. They help you get more done and stay connected in innovative ways. There is a reason that technology is steadily migrating to the cloud across our professional and personal lives.
If you have any questions about the cloud or want to discuss how the cloud can elevate your business, please give us a call at (815) 836 – 0030 or send an email to Contact@WeNetwork.com. Our team is ready and eager to help you.
The post 4 Key Questions Any Business Owner Should Ask Before Performing A Cloud Migration appeared first on Andromeda Technology Solutions.
5 Cyber Security Features/Protocols Your Business Needs To Protect Against Scammers, Hackers & Cyber Criminals
Oct 30, 2017
Sometimes it sounds like the news and cyber experts are on loop or a broken record. Every day there is a new report about cyber security, threats and the like. But while these stories and warnings may start to seem like white noise in the background, the threats are still here and they are very real.
The upside of all of this coverage and conversation is that business owners are wising up and with the topic of cyber security taking center stage, users and business owners alike are being more proactive when it comes to protecting and educating themselves.
In the spirit of education we'd like to dive a little deeper into 5 features/protocols you can set up at your office to beef up your IT Security.
Top 5 Cyber Security Features/Protocols
Multi Factor Authentication
This feature is nothing new but it is becoming more and more common across all kinds of accounts. Financial services, email, social media and other applications/accounts are making use of multi or dual factor authentication. Essentially you have a password and second form of identification to prove your identity. Sometimes this is a randomly generated code – think Facebook's code generator.
Another type of multi or dual factor authentication uses biometric data for identity verification. Things like a fingerprint or a retina scan are examples of this type of security measure. In fact, last month we took a look at biometrics, integrated security and banking applications – read more about that here.
An Employee Training Program
Statistically over 80% of all breaches and intrusions occur after an employee error. Clicking a link in an email, downloading a malicious file, visiting an infected website . . . there are so many ways this can happen and most of the time it isn't intentional either. The best way to prevent this from happening is an ongoing security program for yourself and employees. A good program will have a varied focus: compliance standards for personal and customer info (commonly known as pii or personally identifiable information), strategies for recognizing and avoiding email scams, proper security protocols for best practices at the office and more. In 2017 Andromeda recognized this need and released our PII Protection/Cyber Security Training Program. See full details here.
Business Grade Firewall
A good firewall is your first defense against intrusion. With proper intrusion detection and intrusion prevention settings you arm yourself against cyber criminals and hackers. On top of that, a business grade firewall solution is an important piece of hardware when you want to set up public and private networks. You definitely don't want guests at your building or passersby accessing company documents or networks because of low cyber security protocols.
Regularly Scheduled Updates/Patching
New viruses and threats hit the market every day. On top of that, hackers and criminals discover new vulnerabilities almost as fast as developers can protect against them. This is why keeping up to date and on top of patching and updates is so important. For instance, the WannaCry virus everyone heard so much about this year took advantage of a vulnerability that had already been addressed by a Windows patch. If companies had proactively updated and maintained their updates/patches, they wouldn't have been as vulnerable to an attack.
Spam Filters
This ties into both firewall protocols and employee training but of course, the fewer random emails that make it into your employee inboxes, the fewer links and files you need to worry about employee's (or even yourself) clicking on. A professional spam tool can be configured to your liking and can do a whole lot to prevent content from making it to those that might accidentally infect your network. See the photos below for a few examples of emails we protect customers from on a daily basis.
As always, Andromeda is here to help you protect yourself and your business from these ongoing threats. Take the first step today and sign up for a cyber security audit with our team of experts.
www.WeNetwork.com/CyberAudit
The post 5 Cyber Security Features/Protocols Your Business Needs To Protect Against Scammers, Hackers & Cyber Criminals appeared first on Andromeda Technology Solutions.
Another Point Of Sale Data Breach Hits Retailers
Mar 15, 2019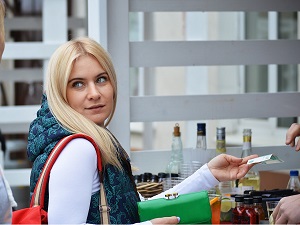 Another week, another data breach. This time, the target of the breach was North Country Business Products (NCBP), a company that makes point of sale (POS) terminals for businesses.
Although NCBP was the target, they weren't the ultimate victims of the breach. Hackers infiltrated NCBP's network and installed malware onto the company's POS terminals.
These were then sold to businesses around the country. In all, according to the latest information published by NCBP about the incident, a total of 139 business locations received these poisoned POS terminals. This allowed hackers to gain control of any payment information processed through those terminals.
In all, NCBP POS systems are installed in more than 6500 locations nationwide, meaning the scope and scale of this breach was approximately 2 percent of the company's installed terminal base.
So far, North Country's handling of the incident has been admirable. The breach occurred on January 3rd, 2019. The company discovered it on January 30th, but noted that the attackers ceased all activity on January 24th when they began detecting investigators probing for their presence.
NCBP has informed law enforcement, enlisted the aid of a third-party forensic investigator, and have published a list of all infected POS terminals on their website. All of the invested terminals are bars, coffee shops, or restaurants, with an even mix of standalone businesses and franchises.
The investigation into the matter is still ongoing. As yet, NCBP and the agencies assisting them have not determined exactly what the impact is or has been for each of the affected businesses.
All that to say, if you own an NCBP POS device, be sure to head to the company's website to find out if your business is on the list of impacted customers. If so, you may have already been contacted by the company.
Aggregated
Connecting and Protecting Business Since 1994
Providing Managed IT Services for:

Accounting services • Construction • Dental/Medical offices • Distribution • Financial services • Health services • Law offices • Manufacturing • Municipal • Non-profits/Churches • Parks/Rec • Schools • Trucking • ...SMB offices/relocation