Networks
•
Telecom
•
Web Design
•
Access Control
•
Cameras
•
Alarms
IT Service Providers for Your Data Network

-Local to:

Aurora, IL
What Is An
Andromeda C‑CAT

?

A C‑CAT (Client-Centric Action Team) is a dedicated team that includes one or more

two

Remote Service Techs

, and one or more

IT Field Techs

whose activities are curated by a

Service Coordinator(SC)

—each specifically appointed to service

your

organization. With cat-like reflexes and precision, your Andromeda C-CAT will pounce on any IT issue, upgrade, or project. It's really the cat's meow for your IT needs!)
Your business depends on technology that simply works.
If you are ready for peace of mind, a dedicated team monitoring, updating and managing your network and, most importantly, if you are ready to get rid of IT headaches once and for all, it's time to make the move to Managed IT Services with Andromeda: the premier IT Service company in the Aurora, IL area!
6 Ways Andromeda Does Managed IT Services Better
100% Live & Local Support
Andromeda's team is completely staffed by local technicians near Aurora, IL 60505,60506,60507. No matter the hour, your issue is resolved quickly and professionally. In fact, 68% of incoming calls are connected to a live technician for immediate response. When a technician isn't available, our average response time is less than 30 minutes. And if that isn't impressive enough, emergency after-hours support response times average less than 10 minutes!
Dedicated Account Teams
You deserve a team that truly understands your business and your needs. That is why Andromeda introduced Client-Centric Account Teams (C‑CATs). As a managed IT services customer in Aurora,IL, you'll have a dedicated account team. An assigned team means one point of contact as well as assigned technicians that are personally acquainted with your network and the unique needs of your business.
Done Right The FIRST Time
Nothing is more frustrating than believing an issue is resolved only to find that the work was only half finished or the problem wasn't actually fixed. We understand this which is why we monitor each ticket and track "Re-Open" work. We are proud to share that our "Re-Open" percentage is less than 2% on all open tickets.
Built-For-You Solutions
Every business is different. We get that, which is why we customize our managed service agreements to fit the needs of each client. With multiple support packages and add on services, we will find a solution that works for you.
One Call – Multiple Technologies
Never waste time playing phone tag between different vendors again. Not only do we provide Managed IT Services in Aurora,IL; between Telecommunication, Access Control, Security Cameras, Burglar Alarm Systems and Web Development/SEO, our team has you covered.
Close The Communication Loop
Nobody enjoys being left out of the loop. During business hours EVERY single call is answered live. We respond to emails within 2 hours or less and if your desired contact happens to be unavailable,
phone calls are returned within one hour.
Want a FREE Consultation or Have Questions?
Just call:

630.243.0030

or fill in the

Request Form

below:
Your information will only be used for our own contact purposes and will never be shared with any third-party.
Professional IT Services that Andromeda Provides for Aurora, IL Businesses:
Managed IT Services
Aurora,IL
Andromeda offers a range of service plans—anything from month-to-month "time & materials"-based assistance to fixed service contracts that permit "no-brainer" conformance to an annual budget. Beyond the functions you would expect from a full-service MSP, you'll have a dedicated C‑CATs team that includes a Service Coordinator directing the same field and remote technicians day-to-day, month-to-month, and even year-to-year to manage your IT network needs.
This isn't simply a glorified Virtual CIO offering. Imagine the cost of hiring your own CIO AND tech team for this same level of customized service and knowledge of your particular (and evolving) network setup!
Cloud Services & Migrations
Typically, the biggest issue you'll face when initiating Cloud services is not the services themselves, but rather the proper migration of your existing services to the Cloud without loss of functionality, downtime, and scores of other details that could undermine the whole process. Andromeda has a long history of expertise in physical on-premises systems. Don't make the mistake of turning all your current systems over to a "Cloud expert"; we'll save you from a lot of heartache and pain with a virtually seamless Cloud migration from your current setup— whatever it is.
Data Backup & Recovery
Aurora,IL
It's a crazy world. Literally thousands of people you don't even know attempt to break or steal from systems like yours every day. Good 24/7 monitoring is a first line of defense, of course. But no matter how great and state-of-the-art your defenses are, you'll almost certainly succomb to a successful attack in time. That's why advanced data backup and data recovery need to be tools that you and your IT partner have at the ready from Day 1. Don't be tempted to "shortcut" this element of your network in the name of expediency or to save a few dollars. Ultimately, you'll lose out on both counts with that thinking. You need a complete and integrated solution that addresses every contingency as well as IT professionals who know how to make that happen.
Cyber Security
Not only do we provide multi-tier approaches to your network security, but Andromeda also provides built-for-you solutions for disaster recovery and business continuity devices. We provide, manage and monitor a variety of devices including physical hardware, Cloud-based and hybrid options. Our team actively monitors over 403 servers and 101 physical backup devices in the field. All with 100% local engineers and technicians.
Onsite/Remote Support
Aurora,IL
Andromeda's team is completely staffed by local technicians near Aurora,IL. No matter the hour, your issue is resolved quickly and professionally. In fact, 68% of incoming calls are connected to a live technician for immediate response. When a technician isn't available, our average response time is less than 30 minutes. And if that isn't impressive enough, emergency after-hours support response times average less than 10 minutes!
IT Network Management
IT networks are our bread-and-butter. We have provided these services to clients since 1994. Some have continued to rely on us for their evolving network needs since the very beginning. We stand behind our work day to day and year to year because we foster relationships with our client-partners that absolutely demand that of us. It's in our DNA and how we prefer to do business.
What A Few Of Our Clients Have To Say
It is invaluable to have one vendor handling all of our technology needs.
"The first project Andromeda handled for our firm was implementing a new phone system in 2010. They handled our wiring, installed the system and fully trained our staff. Since then, our relationship has grown and we've entrusted Andromeda with all of our IT, phone and security needs. In 2016 we moved to our new building and Andromeda was able to make that transition as smooth and simple as possible. It is invaluable to have one vendor handling all of our technology needs. We're lawyers, we aren't IT pros. We need to focus all of our energy on our clients. Andromeda gives us that ability. They remove our discomfort and the 'unknown' by breaking big decisions down into pieces we can understand. They understand our business, they guide us in the right directions and help us provide exceptional service to our clients. We would happily recommend Andromeda for all technology needs to any of our peers."
Charles Keough
Principal —Keough & Moody P.C.
The truth is our expertise is Law; Andromeda's is IT
"Back in 2003 our office was dealing with an IT firm that we no longer believed in. We heard about Andromeda through a family friend and frankly, have not looked back since. They are dependable, knowledgeable and trustworthy. Having a partner that works with the multiple technologies and software applications our industry demands is key to keeping pace with our peers. Their ability to handle issues remotely keeps our productivity high and allows us to get back to work quickly. Their staff is professional and incredibly easy to work with. The truth is our expertise is Law; Andromeda's is IT. Relying on Andromeda for all our IT needs is like having an older brother that knows how to fix anything!"
Anita Fay
Office Manager —Fay, Farrow and Associates
Not Ready To Call Us Yet?
Download Our FREE Report And Discover 8 Benefits Of Managed IT Services in Aurora,IL As Well As 12 Of The Top Criteria MSP Providers Worth Their Weight Should Provide
Choosing an IT partner is a big deal. Whether you're new to the concept of Managed Service Providers or you're frustrated with your current vendor and looking for a new one, this report will help you focus on key factors and services you need to be aware of.
Fill out this form to claim your report!
AndroPedia Tech Library
As part of our service, it is important to keep our client-partners well informed on IT developments, news, and best practices. Here is just a sampling of typical items from our AndroPediaSM library archive:
How to Spot Phishing Scams and Stop Cyber-Criminals from Stealing Your Data
Apr 27, 2018
Cyber-Security is a big topic in the news. New businesses fall victim to hackers and cyber criminals daily.
Even high quality security programs and protocols can fall victim to cyber-bullies without proper employee training, awareness and attention to detail.
We believe education is one of the best defenses against cyber criminals.
With that in mind, we want to provide some valuable tips for spotting and avoiding one of the most popular scams/tactics cyber-criminals use against you: the Phishing Scam.
Email is essential to your business and every day communication. It is also one of the prime spaces hackers focus on to steal your information and sneak into your network.
This is because it is SO much easier to get a person to click on a link, input account info or download a corrupt file via an email scam than many other hacker strategies.
You've probably heard this but it's true – "There's one person in every office that will click on anything."
Hopefully that person isn't you!
But – with the information below, you'll learn how to spot these scams and some strategies to avoid them altogether.
Phishing Scams 101
What are some of the Goals of Phishing Scams?
Steal Sensitive Personal Info – Credit Card Info, Account Login Info, Personally Identifiable Information (SSN, Birth Date etc.)
Gain control of your computer or network
Install malware or other computer viruses
How do cyber-criminals convince you to fall for their plans?
Deliver file attachments with harmful software enclosed – viruses/malware/keystroke loggers
Trick you into clicking on bad websites that secretly infect your PC with viruses etc.
Convincing you to give them username info and password info to desired accounts
Things you should look out for to spot and prevent Phishing Scams
Make sure that the "reply to" email address matches the sent address
Any message that creates a sense of urgency – especially regarding login info
Any message that requests sensitive data
Questionable links or links that don't match the anticipated site/source
Random social media messages asking you to click a link to see a video or receive specific info
Keep in mind and remember that legitimate companies won't email you asking for passwords, sensitive info (social security numbers) or other sensitive data via email.
 Sample Phishing Scams Explained:
Office Example:
The 'From' email address is suspicious
'From' and 'Reply-To' are different and both are suspicious again
When you hover over the 'Restore Access' button there is a link that doesn't match any Microsoft destinations
PayPal Example:
Bad sender domain
Suspicious Subject & Content – generic name and sense of urgency to give up account info
Bad grammar
Suspicious link if you hover over the masked link.
Amazon Example:
Bad domain in 'From' section –

management@mazoncanada.ca

Generic Greeting
Bad link redirect
Sense of Urgency in message to get your account info
Response Strategies/Protocols for suspected phishing emails:
In the office it is important to have conversations with employees and make sure everyone knows what to do if they suspect a bad email.
We recommend alerting your

IT partner

or IT staff members of the issue.
NEVER click any links you think are suspicious.
If you are unsure of an email you can always contact the related company direct. For example, with respect to any of the above emails you can always go directly to their official page, grab contact info and call/contact support to confirm that the email is real.
NEVER use contact info in a suspicious email to figure out whether it is real or not. Criminals put fake phone numbers and contact info in their messages so of course they will tell you that the email is real.
Hold regular

cyber security and data security training

in your office to make sure employees are up to speed on the latest techniques/red flags.
The post How to Spot Phishing Scams and Stop Cyber-Criminals from Stealing Your Data appeared first on Andromeda Technology Solutions.
Get More Done with 5 Productivity Hacks for Office 365
Aug 31, 2018
The shortest distance between two points is a straight line. You can't trick the system, you've got to travel the distance from point A to point B to get where you want to go – or at least that's what we've all been told by physics and geometry.
In most cases, this concept also applies to our workdays and careers. The grind is long, the work keeps coming, the tasks continue to pile up but at the end of the day, you are consistently working on taking the necessary steps towards point B – whatever that may be for you and your business.
But what if there were tools available to you that might give you and your team an edge. Wouldn't you want to take advantage of strategies and applications that improved productivity, helped you get more done and saved you time?
Did you know that Microsoft Office builds their tools with time saving, productivity boosting, organization strategies in mind?
Let's take a look at some of these tools to help you get more done during your 9-5.
---
5 Productivity Hacks for Office 365
1. The Tell Me Function
Ever wonder how to do something in Word or forget where to find a specific function in a Microsoft Office program? The Tell Me function is located in the main navigation bar and can perform many useful functions for you. This function speeds things up and prevents you from having to Google how to do things like create columns in Word, pull up your recent commands, resend messages in Microsoft Outlook and more.
As mentioned, the Tell Me function is located in your main navigation – to the right of the 'View' section. You can see a faint blue lightbulb with the phrase "Tell me what you want to do…" next to it. You can also use the key combination alt + q to pull it up if you want to be even more productive!
For more information on this function and its' use – check out this quick video
2. Real Time Collaboration
Have you ever tried to open a document at work when a popup informs you that you have to open a 'read only' copy because another user is currently in the file?
This can be a pain when you are trying to get work done at the same time as one of your teammates. It can also be frustrating if you have a teammate that regularly forgets to close files when they are done working with them (we've all done that right?).
With Office 365 you can take advantage of live collaboration. This means that multiple members of your team can be in a document, editing and making changes at the same time. For instance, if you have an upcoming presentation, your marketing staff can be editing content while your sale staff adds their spin.
Additionally, Microsoft has built other tools such as Microsoft Teams to help departments and teams in your organization collaborate via conversation and shared documents. You can also take collaboration outside of your office to work with vendors, clients and business partners via Inter-Tenant Collaboration which allows you to set up shared calendars, documentation spaces, IMs and more.
For more on how Office 365 can enhance collaboration in the office look here.
3. Microsoft To-Do
Do you have a list of tasks and to-do's that never seems to end? Or maybe you just have a hard time organizing all of your tasks in one place?
With Microsoft To-Do you have an intelligent, cloud based task management system that is with you no matter where you are and accessibly on a variety of devices. The application is mobile friendly and synchs directly with Outlook.
To-Do allows you to take your larger list of tasks and review them daily to add them to your 'My Day' feature. By doing this you are able to locate which of your tasks have priority and knock them out one by one.
Where To-Do really shines is it's security and compliance features. Microsoft has done a great job with the Outlook integration to make sure that your To-Do list is secure and compliant across the board.
You can also segment your To-Do's into "steps" meaning you can break down a larger task into the sub-steps required for completion. You can even share your tasks with peers, friends, family or coworkers thanks to a recent update.
4. Automate Key Workflows with Microsoft Flow
Many businesses turn to Sharepoint to securely store, access and manage company documentation, Microsoft Flow can actually help you create workflow automation with integrations to other software as well.
For instance, you can set systems up so that when a document is uploaded, an email is automatically sent to a staff member to review the document. This can be useful for things like Time Off requests but can be applied to larger, more demanding tasks like onboarding or off boarding clients/vendors. Microsoft Flow is also integrated into SharePoint so that you can start flows directly from lists and libraries making it a great productivity booster, time saver and addition to the Microsoft Office Suite.
5. Microsoft Sway
Microsoft Sway is a presentation tool that some believe may replace PowerPoint. It allows users to put together professional presentations quickly with a drag and drop function for photos, documents, text and more.
It should be mentioned though that you cannot create charts or graphs in Sway – it is more geared towards visual presentations. So if you need to share numbers, statistics or charts, probably best to stick with PowerPoint.
You don't have to have Sway installed on a device to present your work which means it is widely accessible as well as easy to use and intuitive. Sharing your presentation with another is as simple as sharing a link.
---
Microsoft wants to help you get your job done and they build tools/functions to help you get more accomplished in the office and on the go. With new Office applications and Office 365 you open a variety of doors to your business with respect to collaboration and remote capabilities.
You don't have to have Office 365 to get the productivity boosts described above. Many of these programs and tools are available in the traditional license model. You may lose out on some of the cloud functions, live collaboration capabilities and accessibility though.
To discuss what migrating to Office 365 would mean for your business, simply give us a call at the office (815) 836 – 0030 or send an email to Contact@WeNetwork.com. You can also feel free to reach us if you want to learn more about a specific application not included in your current Office 365 Subscription.
The post Get More Done with 5 Productivity Hacks for Office 365 appeared first on Andromeda Technology Solutions.
New Versions Of Ransomware Continue To Wreak Havoc
Sep 11, 2018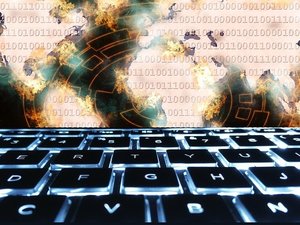 2017 was "The Year of Ransomware." It saw an incredible number of ransomware attacks and infections, paired with a tremendous number of innovations.
Although 2018 hasn't seen quite the same level of ransomware activity, it's still a major threat with one company coming under attack about every ten minutes.
Although there haven't been as many innovations so far this year, that doesn't mean they're not occurring, and some of the new ransomware strains are particularly nasty.
Of interest, this year has seen a rise in 'Cryptojacking', which is a variant of a classic ransomware attack where the malware mass encrypts files on the victim's machine while simultaneously installing cryptocurrency mining software.
This should come as no surprise given the rise in popularity of cryptocurrency, but it does add a disturbing new wrinkle to ransomware attacks. Even after you get your files back, lurking in the background there is a rogue process that's slowing your system and ultimately putting money into the bank accounts of the hackers.
Most recently, an Obama-themed cryptojacker has been making the rounds.
The ransomware itself is nothing out of the ordinary. It predictably locks your files, demands payment, and installs a Monero miner in the background.
Obama is not the first world leader to unwittingly become the face of ransomware. In 2016, Candidate Trump was featured in a malware strain that proved to be a work in progress. It would infect machines, but didn't actually encrypt files. It's unclear if a working version was ever deployed in the wild.
The Obama strain contains code fragments that indicate Chinese origin. There's circumstantial evidence that leads some security researchers to believe it may be the work of a Chinese hacker known only as "Rocke," but so far, there's no definitive proof.
As things stand now, there's no good defense against this most recent threat, save for continued vigilance.
Aggregated
Connecting and Protecting Business Since 1994
IT Service Providers & Managed IT Services for:

Accounting services • Construction • Dental/Medical offices • Distribution • Financial services • Health services • Law offices • Manufacturing • Municipal • Non-profits/Churches • Parks/Rec • Schools • Trucking • ...SMB offices/relocation